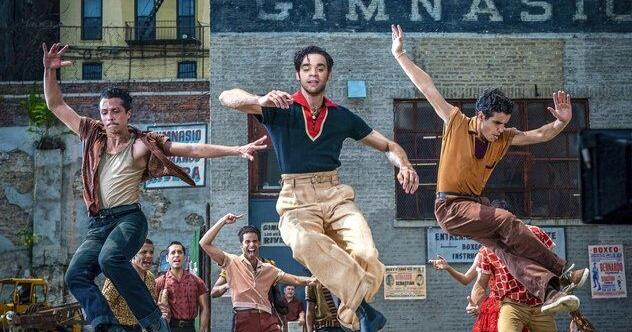 CALLERI: Shakespearean dramas form backdrop for two new films | Night and day
William Shakespeare's plays provide a source of material for filmmakers. This season you have the option of going to a movie theater and seeing a rejuvenated "Macbeth" and a musical based on "Romeo and Juliet" – "West Side Story" – remade.
Over the years there have been 36 filmed versions of "Macbeth" for theaters and television, even silent editions.
A few gangster films have altered the Shakespearean drama. "Joe MacBeth" (with incorrect capital letter B) and "Men Of Respect" are rooted in the criminal element.
Horror master Roger Corman used sections of "Macbeth" in "Tower Of London", with tracks from "Richard III" also added. Legendary Japanese director Akira Kurosawa created a serious murder drama in the Noh lore and called it "The Blood Throne".
Three traditional interpretations of "Macbeth" stand out. Most importantly about the trio of films is the fact that Macbeth and Lady Macbeth are played by relatively young professionals with theatrical background.
Orson Welles impersonated Macbeth in the 1948 masterpiece he wrote and directed. Jeanette Nolan, one of her famous Broadway Mercury Players, is Lady Macbeth.
Roman Polanski was still recovering from the murder of his wife Sharon Tate when he decided to direct a version starring Jon Finch as Macbeth and Francesca Annis as his wife, both British performers. The well-played 1971 film is interpreted from the perspective of battle-hardened warriors and is brutally violent and fast-paced.
Michael Fassbender as Macbeth and Marion Cotillard as Lady Macbeth are brilliant in 2015 director Justin Kurzel's less flashy 'Macbeth', which emphasizes psychological themes and the pressure that stems from ambition.
Frances McDormand has long wanted to play Lady Macbeth, and she is co-producing "The Tragedy Of Macbeth" with Robert Graf and her husband Joel Coen, who also directed and wrote the screenplay. This is the first film Coen has made without his brother Ethan.
McDormand wanting to play the wife of the Scottish lord who desires to kill King Duncan is intriguing. Macbeth and his wife are written as an ambitious young couple plotting a murder, and usually expressed that way. This is not the conspiracy of an elderly person.
McDormand is 64 and Macbeth is played by Denzel Washington, who is 67. They both bring a wealth of experience to their roles; However, their performances lack the fire in belly madness, illusion, and energy that their characters need. In addition, Washington's cadences are too contemporary and McDormand's are too internalized.
The most sublime acting is that of Kathryn Hunter, who plays the three witches. It's a unique creative choice to have one person tackle the trio of roles, and what Hunter offers beautifully is a shapeshifter genius.
Where Coen's version of the play succeeds powerfully is in its visuals. The film looks great. Bruno Delbonnel's black and white cinematography is breathtaking. The austere settings are wonderfully atmospheric. There are times that can make you gasp.
I applaud Coen for his interesting rendition of "Macbeth". Enterprising moviegoers have the opportunity to see something different, and that's always a good thing.
This brings me to "Romeo and Juliet" and "West Side Story". The whole time I watched the movie, the feeling of not seeing much different from the 1961 classic weighed on me. Director Steven Spielberg expressed personal reasons for loving the musical, a genre he always wanted to lead.
If you're going to remake something, especially a movie as well-liked as "West Side Story," you've got to take the material in a new direction; give it a new dimension. Director Spielberg and his screenwriter Tony Kushner needed to find thematic points in the original that begged to be explored and amplified. This is not the case with their "West Side Story".
Young lovers facing conflict, as in Shakespeare's "Romeo and Juliet", will always provide dramatic appeal. The dynamic Spielberg-Kushner only repeats what has been successful before. The setting – the street gangs in Manhattan – has a proven track record. Puerto Rican sharks and Polish and Italian jets hate each other.
The film is about a territory battle taking place in a dance construction. You suspend disbelief and let the song and the dance carry you forward. The glorious music of Leonard Bernstein and the perfect lyrics of Stephen Sondheim continue to work their magic.
Brighter colors, especially when it comes to costumes, may appear on screen, but so what? Janusz Kaminski's fluid camera work adds a touch of visual splendor, but why isn't it splendid about something fresh?
Well done to Rachel Zegler as Maria, Ariana DeBose as Anita, David Alvarez as Bernardo, Mike Faist as Riff, Cory Stoll as Lieutenant Schrank, Brian d'Arcy James as Officer Krupke and Rita Moreno (Anita in the 1961 version), who now plays the old owner of Doc's pharmacy.
Ansel Elgort is Tony, Juliet's Romeo from Zegler. He's got the physique for the role, but he's poorly directed by Spielberg. Elgort's song is flat, and he lacks the vital on-screen strength to make us believe his love for Maria would generate the chaos, hatred, sexual assault, and murder we witness.
These actions are only exciting because the struggles made sense in 1961 and have meaning by nature. You would have to be emotionally frozen deep within yourself not to be moved by the Shakespearean power of it all.
The new "West Side Story" even fails as a lure for a different generation of moviegoers. The story begins with the animosity generated by the urban renewal of a Manhattan neighborhood and ends with something familiar that isn't as well done as in the original. It really is a pointless remake.
Michael Calleri reviews films for the Niagara Gazette and the CNHI News Network. Contact him at moviecolumn@gmail.com.