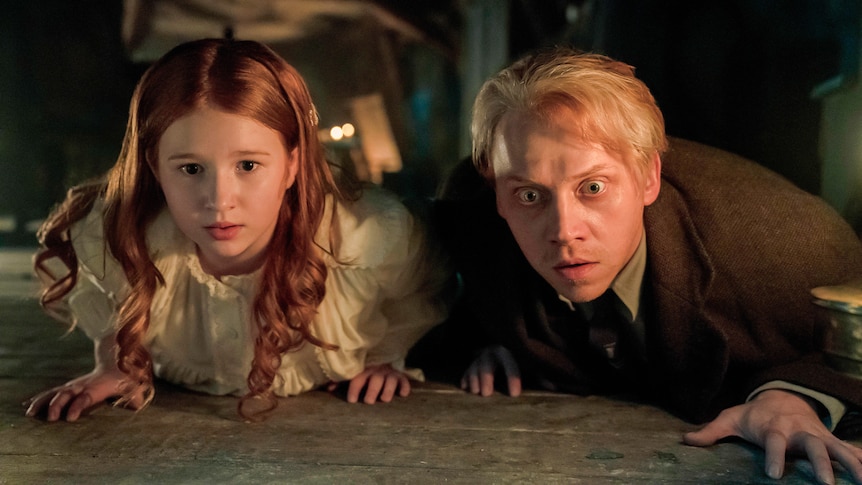 The best new movies and TV shows to stream this Halloween, from the makers of Coraline, Get Out and The Babadook
[ad_1]
You might have mixed feelings towards the spooky season.
But you know what? You can't deny that The Simpsons Halloween episodes have always been the best.
I tend to steer clear of pure horror since I'm a certified weakling, but I do like a monster or possession once in a while, especially in October.
If you're sick of seeing Scream and Carrie again, here's some of the spookiest (and funniest) new Halloween content to sink your fangs into.
Wendell & Wild (Netflix, October 28)
Loading
My favorite Halloween rewatch has always been The Nightmare Before Christmas.
But this year, Henry Selick (who's also behind Coraline, which I'm too scared to watch) graced our screens with a spooky new stop-motion called Wendell & Wild, with help from get out designer Jordan Peele.
internet is already applauding the performance in this film, starring teenage punk and breakthrough Kat Elliott, considered the first black woman to direct major stop-motion animation.
Kat is an orphan who has been in and out of group homes and detention centers since her parents died in a car accident she blames herself for. She transfers to a disturbing boarding school for a fresh start, but soon strikes a deal with a pair of demons who are voiced by – and suspiciously sound like – comedy duo Key & Peele.
The film is funny, dark, political and scary. But it's not too scary so you won't need to sleep with the lights on.
For fans of: Coraline, The Nightmare Before Christmas, Get Out and Beetlejuice.
Guillermo del Toro's Cabinet of Curiosities (Netflix, new episodes every day until Halloween)
Loading
Even just by watching the trailer, you can tell this one is a little weirder.
Directed by Guillermo del Toro from Pan's Labyrinth, form of water and Hellboy, this anthology brings together the who's who of horror. Each episode features a completely different plot, cast, and creative team as we delve into the compartments of the cabinet of curiosities.
We see stories from Australian Jennifer Kent (The Babadook, The Nightingale), Vincenzo Natali (Splice) and Ana Lily Amirpour (A girl walks home alone at night), with the series also featuring big names like Essie Davis, Rupert Grint, Geena Davis and even Eric Andre.
For fans of: Scary movies like The Babadook, Splice, and A Girl Walks Home Alone at Night (but in small Black Mirror-style portions).
My Best Friend's Exorcism (Amazon Prime, Available Now)
Loading
This possession film mixes more genres than the punch at a Halloween house party.
Part teen drama, part comedy, part horror thriller, My Best Friend's Exorcism hits every mood you're looking for.
Set in the late '80s, the film follows best friends Abby and Gretchen through the toxic issues of a high school friendship. Complicating matters is the demon that has taken up residence in Gretchen's body, causing her to become even meaner and greedy than your average moody teenager.
What follows is a film that offers both laughs and scares, and will leave you grateful that you've already graduated from high school.
For fans of: Jennifer's Body, Mean Girls, Heathers or Stranger Things.
Let The Right One In (Paramount+, new episodes weekly)
Loading
Even if you haven't seen it, you might have heard of Let The Right One In – it was originally a novel, then a movie, then another movie, then a play and now a television series.
This new adaptation follows Mark and his daughter Eleanor, whose life was irrevocably changed a decade earlier when she was turned into a vampire. Only able to go out at night, Eleanor relies on her father to bring her the human blood she needs to stay alive.
While the film focuses more on Eli's relationship with his 12-year-old neighbor, this new adaptation shines a light on parent-child dynamics, blending the intimacy of emotional relationships with the vicious and bloody vampire attacks that Eli's story is about. story is known.
For fans of: The girl with the dragon tattoo, Raising Dion, Penny Dreadful.
The Babadook (ABC iview, out now)
Loading
While not new content, this Aussie film is a must-watch if you haven't seen it already – and worth rewatching if you have.
The Babadook became a meme after being mistakenly added to Netflix's LGBT+ collection, and this terrifying monster has been killing pride parades ever since.
Despite this, the film itself is a much darker metaphor for grief and trauma. The psychological horror follows a struggling single mother and her son who descend into paranoia when a chilling children's book titled "Mister Babadook" mysteriously appears in their home. What follows is an exciting and chilling thriller that will have you on the edge of your seat.
If you're looking for more Del Toro, the remarkable Pan's Labyrinth is also on ABC iview, infamous Pale Man and all (don't look it up if you don't want nightmares). Vampire fans can also catch Bram Stoker's Draculawith Gary Oldman, Winona Ryder, Keanu Reeves and Anthony Hopkins.
The Babadook is for fans of: Hereditary, Mama, A Quiet Place or The Shining.
Los Espookys (Binge, now available)
Loading
This quirky comedy series, delivered mostly in Spanish, has returned for season two last month.
From the mind of Judd Apatow and Fred ArmisenLos Espookys is basically about a group of friends who monetize their love for horror.
Set in a fictional Latin American country where the weird and weird are just a part of everyday life, the gang creates a business that brings horror fantasies to life for a variety of goofy clients.
This show is perfect if you want to get into the Halloween spirit (while laughing) and brush up on your Spanish.
For fans of: Research Group, Portlandia or Wellington Paranormal.
ABC Everyday in your inbox
Receive our newsletter for the best of ABC Everyday every week
[ad_2]
Source link